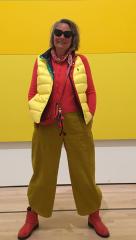 About Joanna TYKA
Joanna Tyka's life is as colorful as her art itself. Throughout her career, she has lived in five different countries and thus built strong relationships with fine art societies and galleries in Europe and the United States. She grew up in Poland and studied at the Academy of Fine Arts in Warsaw, from which she graduated with special honors. Later, she had a show at the Zacheta Museum, one of the most prestigious art institutions in Poland.
After Graduation, Tyka moved to Hamburg, Germany, where she worked in design — on graphics, fashion, and tapestry — and as a sailing correspondent. However, she was still painting and winning many art awards, including the Altona Prize in 1983.
Tyka's tropical style was inspired by the time she spent in Miami and has been coined "Tyka-style" by some critics for its distinguishing coloring and dynamism that portraits life in South Florida.
Currently, Tyka lives and paints in Richmond, VA. Her landscape RICHMOND SERIES of 2010 -2013 was purchase for permanent collection by the Senate of Virginia, Dominion Resources, and many local RVA companies. Since 2015/2016, some of her paintings are part of the UVA Children Hospital art collection in Charlottesville, VA. Later in 2016, Tyka won a painting competition in Richmond and created the backdrop for the Wintergreen Music Festival.
Although Tyka is currently based in Virginia, her work is spread throughout the US and has been shown at the ART Expo in New York and Los Angeles. In LA, she created a large mural for "El Dí­a de los Muertos" and painted for the Starlight Foundation for sick children.
Her paitings are on permanent display on Norwegian Cruise Ships.
Furniture design is yet another aspect of her work. Her musical chairs have been shown in many concert series and at the annual SOFA art expo in Chicago.
Music, one of Tyka's many interests since early childhood, has shaped her not only personally but also her art. Thus, she did the stage design for several concerts and music festivals. The Florida International University Music Festival. The Schleswig-Holstein Music Festival in Germany in 1993 and Festival Miami of the University of Miami School of Music have all shown Tyka's art. Her paintings also adorn the walls of the Princeton Boys Choir and the Philadelphia Boys Choir offices and have been exhibited under the auspices of the Miami City Ballet. Furthermore, Tyka created multiple covers for the Playbill Magazine for the Florida Philharmonic and posters for the seasons of 1993/ 1994 and 1995/1996.
The Tyka Puppet Production has been shown in connection with Barnes and Noble's children's shows, at the Highlands Chamber Music Festival in North Carolina, the Harid Conservatory Summer Series in Boca Raton, and in connection with the Greater Miami Opera at Vizcaya.
Tyka has shared her love for art by teaching. During her time in Germany, she taught art classes at the Anthroposofic Institute of Rudolf Steiner and at different Volks Schools. In Miami, she has taught at Miami Dade College, the Jewish Community Center, and Coral Gables Community Center. She has taught at the Visual Art Center in Richmond, VA where she now teaches abstract painting classes.